Home Of The Best Pool & Billiards Tables
If your dream family room or rec room includes a billiards table, then Colonial Pools can help you to make that dream a reality. After all, what better way to unwind than by playing a friendly game of pool or practicing your trick shots from the comfort of your own home?
Canada Billiards Tables
We carry pool tables made by Canada Billiards. These are 100% Canadian made and are of the highest quality. Tables can be personalized to suit your needs and décor and are available in a wide selection of colours both in wood stain and cloth cover.
When you order a Canada Billiards table from Colonial Pools, it includes complete set up and installation, along with everything you need to start playing pool. Accessories included in your package are table cover, pool cues, upgraded Aramith balls, triangle, rake, cue rack, nine ball rack and a cue repair kit.
An upgrade package that includes fibreglass cues instead of wood, a fitted Gaucho cover and snooker balls in Belgian Aramith in 2¼" to accommodate your billiard table, is available for $350.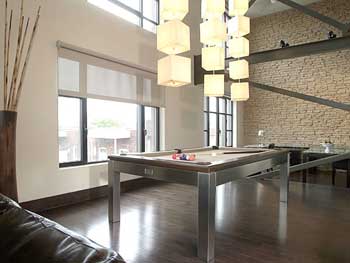 Pool Table Services
At Colonial Pools, we don't merely sell pool tables, but we also service them, so you never have to worry about playing on a table that is in disrepair.
We offer re-clothing service and have a variety of top quality brand name cloths to choose from including:
Heritage – Heritage cloth has a 75/25 wool to nylon ratio. It is a common cloth for home pool tables and is available in a wide selection of colours.
Simonis – considered tournament grade cloth, Simonis has a 90/10 wool to nylon ratio. We recommend that Simonis only be used for 9 or 10 foot tables as this cloth can bunch in the corners on smaller tables.
Hainsworth – made for snooker tables, Hainsworth is a high quality cover with a 95/5 wool to nylon ratio. Hainsworth cloth is made in England.
In addition to re-covering your billiards table, we also offer the following services:
Re-rubbers – if re-rubbers are necessary, it should be done at the same time as re-covering.
Dismantling – let our professionals perform this tricky task for you so that nothing is scratched and no parts are lost.
Moving – pool tables can be easily damaged if you try to move them before they have been properly disassembled. Rather than risk this by doing it yourself or hiring movers who are unfamiliar with pool tables, it is best to leave this task to the professionals.
Re-leveling – this becomes necessary when the playing surface is no longer level or when seams are no longer flush.
Re-tipping of cues – this is done in-store.