A Spa Or Hot Tub Is Perfect All Year Long
Experience the ultimate luxury of relaxing in your own hot tub whenever those aching muscles cry out for relief after a long day at work, or when you are recuperating from your strenuous exercise routine, or maybe those arthritic joints just need some TLC.
Perhaps you are dreaming of a romantic evening with your significant other, stargazing into that beautiful black sky, in spring, summer, fall or winter, while enjoying a glass of champagne. Don't forget to light some candles and then let the warm, soothing water jets, positioned in all the right places, enhance the ambiance.

Or you may simply want a relaxing spot for you and your family to warm up and relieve tired muscles after doing yard work, or swimming in the pool. A spa or hot tub may be just what you've been looking for to encourage that special family time together. It can also be a great place to entertain friends.
Colonial Pools offers premium quality hot tubs in a variety of shapes and sizes to seamlessly fit in with your current decor, or be the focus of your yard. They may be sunken into your deck or placed on top. There are a variety of options and configurations to choose from. If you are unsure which would work best for you, one of our consultants would be happy to visit your home to make recommendations.
Our Hot Tubs
Our hot tubs/spas are made by Sunrise Spas, a Canadian company in Grimsby, Ontario. They assure us that,
We adhere by stringent quality control measures and pride ourselves on team member satisfaction as well as environmentally-conscious manufacturing practices.

We also understand that a hot tub for your home is a significant investment, so we've built every one of our hot tubs with materials that will last a lifetime. Plus, we've made maintenance and operating easier and less expensive, with a proprietary insulation and filtration system.
These high quality hot tubs are unsurpassed both in appearance and function. With an insulation value of R-27 (higher than most homes!), precise jet placement and maintenance free cabinetry, it is no wonder that this brand is a favourite in both Canada and the United States.
When ordering your hot tub, there are many great features to choose from including: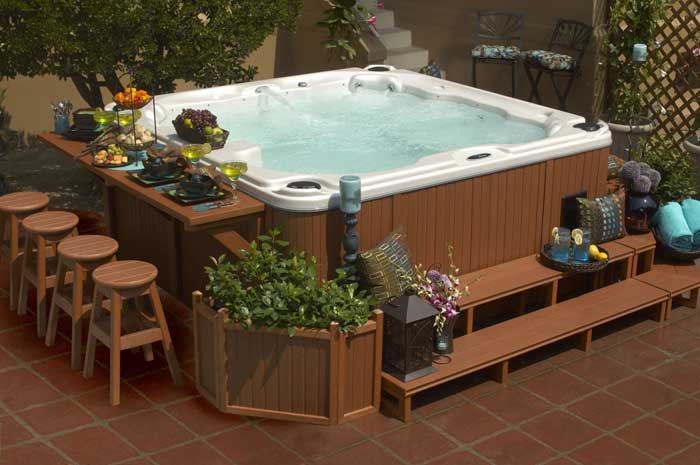 Hot Tub Benefits
Besides being wonderfully relaxing, and quite possibly making your home the most popular place on the block, hot tubs and spas have many therapeutic benefits. The word spa is actually an acronym which stands for "salus per aquam" which is Latin for "health from water".
The heat from the spa
causes a variety of beneficial physiological responses, including reduced blood pressure, muscle relaxation and temporary pain relief. The heat from a hot tub is different than the heat you get from a bathtub, because hot tubs can retain their temperature, whereas bathtub water will cool down over time.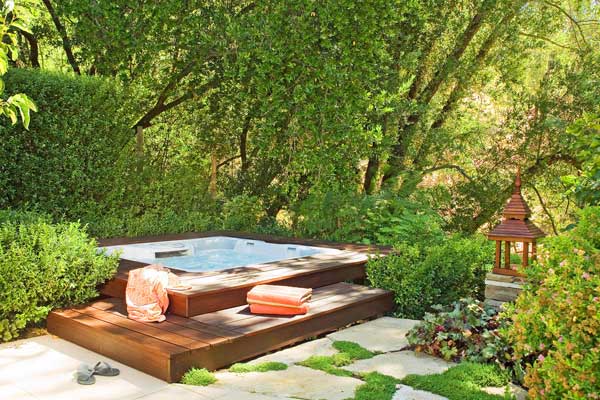 The buoyancy of relaxing in a spa relieves pressure from your joints and the hydrotherapy water jets act like your own personal masseuse, strategically targeting areas where you are most likely to have sore and tired muscles.
Numerous medical studies have been conducted on the use of hot tubs and shown that they benefit people with a number of conditions including back pain, diabetes, arthritis and poor sleep quality. Spas
have also been shown to have a positive effect on cardiovascular health.