A Spa or Hot Tub Is Perfect All Year Long
What can beat the luxurious sensation of relaxing in your own hot tub? Whether you dream of romantic evenings with your significant other stargazing and sipping bubbly while enjoying the warm soothing water jets, or whether you simply want a relaxing spot for you and your family to warm up and relieve tired muscles after a day work or of swimming in the pool, a hot tub or Jacuzzi may be the answer you've been looking for.
Colonial Pools offers premium quality hot tubs in an array of shapes and sizes. They may be sunken into your deck or placed on top. There are a variety of options and configurations to choose from. If you are unsure which would work best for you, one of our consultants would be happy to visit your home to make recommendations.
Our Hot Tubs
We provide hot tubs made by Sunrise Spas, which are Canadian made out of Grimsby, Ontario. These high quality hot tubs are unsurpassed both in appearance and function. With an insulation value of R-27 (higher than most homes!), precise jet placement and maintenance free cabinetry, it is no wonder that this brand is a favourite in both Canada and the United States.
When ordering your hot tub, there are many great features to choose from including:
Extra wide seats
Marine grade speakers
Cascading water
Targeted calf, ankle and foot massage jets
Adjustable stainless steel jets
Easy clean 50 sq foot filtration system
Water and air diverter controls
Easy touch topside digital controls
Underwater lights
Comfort grip hand holds
Full body lounger
Custom molded padded headrest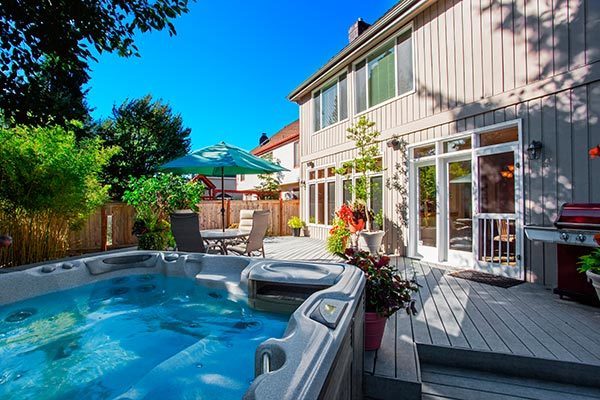 Hot Tub Benefits
Besides being wonderfully relaxing and quite possibly making your home the most popular place on the block, hot tubs and spas have many therapeutic benefits. The word spa is actually an acronym which stands for "salus per aquam" which is Latin for "health from water".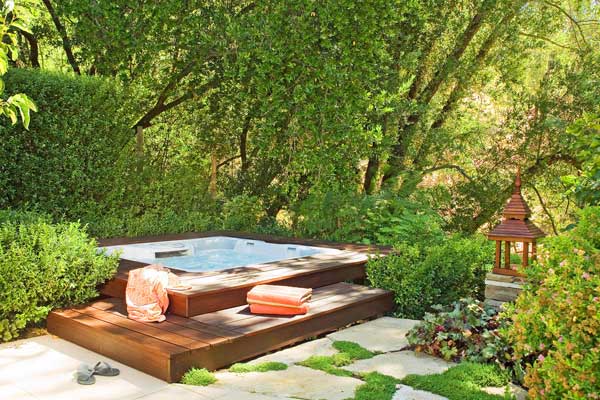 The heat from the hot tub causes a variety of beneficial physiological responses including reduced blood pressure, muscle relaxation and temporary pain relief. The heat from a hot tub is different than the heat you get from a bathtub, because hot tubs can retain their temperature whereas bathtub water will cool down over time.
The buoyancy of relaxing in a spa relieves pressure from your joints and the hydrotherapy water jets act like your own personal masseuse, strategically targeting areas where you are most likely to have sore and tired muscles.
Numerous medical studies have been conducted on the use of hot tubs and shown that they benefit people with a number of conditions including back pain, diabetes, arthritis and poor sleep quality. Hot tubs have also been shown to have a positive effect on cardiovascular health.