Pool Liners Are Our Speciality
Colonial Pools has installed hundreds of vinyl pool liners in pools of all types and sizes. We offer a wide selection of Megna liners for on-ground and in-ground swimming pools. Our liners are of the highest quality and are resistant to mold, and mildew. They will resist fading from sunlight and chemicals.
Your pool will be professionally measured. Our vinyl crew is amazing!!! They have been doing it for years, and are professional and meticulous….. we are your vinyl liner specialists!
When Do You Need A New Pool Liner?
Most pool liners last an average of seven years. By properly maintaining your pool and monitoring it for the correct pH and chlorine levels, you can help to ensure that you get the maximum longevity out of your liner.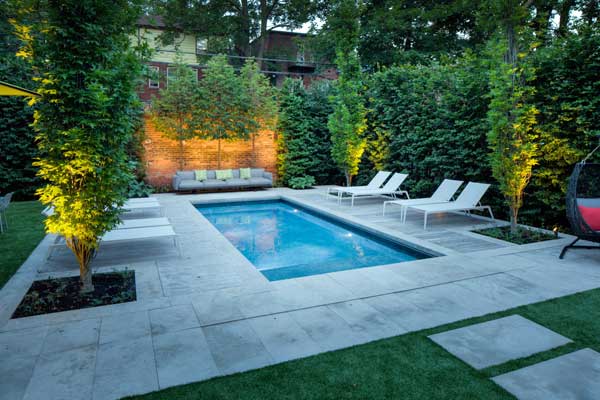 As long as your liner is not leaking, there is no need to replace it. If one day you notice that your water level is down by a foot or so, you'll know that the time may have come. However, just because your liner leaks, does not necessarily mean you need a new liner. It may be able to be fixed to give you a few more years. We are here to help, not over sell.

If you notice that your liner is starting to tear because of dry rot (you'll usually see this in the corners first), you'll likely want to replace it. While this may not cause a leak, it does not look very appealing.
Finally, some homeowners choose to have a new liner installed simply because they wish to have a new pattern in their pool. Since fresh new patterns are introduced every year, it is a way to update the look of your swimming pool.
Our Promise To You!
When your pool needs a new liner, it is understandable that you want to get it installed as soon as possible. After all, the whole reason for having a pool is to be able to enjoy swimming and relaxing in it – not waiting around for a pool technician!
That's why we always get the job done in as timely a fashion as possible. As soon as your liner arrives from the plant, we make arrangements for next day installation – weather permitting of course. With each installation, we include new faceplates and gaskets, as well as starter chemicals.
Professional Installation
Some websites which sell pool liners online claim that installation is an easy do-it-yourself job. What many homeowners may not realize, however, is that each pool has considerations which take a trained and experienced professional to recognize during the measuring process.
Also, during installation there may be unanticipated issues which require a professional to deal with. These include deteriorated pool panels, issues with bottom surfaces and ground water, or with vacuum stretching the liner.
It is important to work with an expert who is both equipped with the proper tools, and has the experience necessary to measure, install and guarantee their work.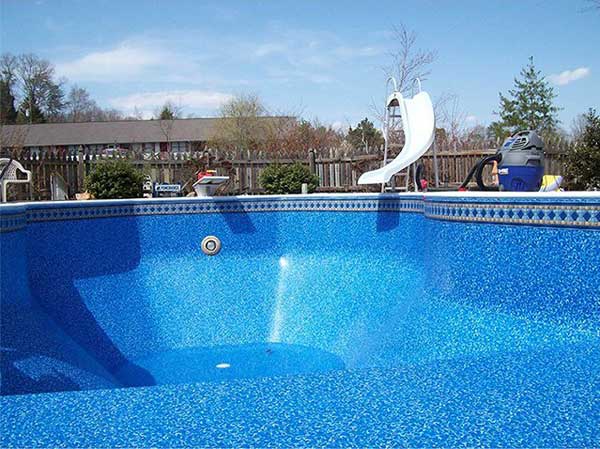 How To Order?
There is no need to take any measurements yourself. When you call Colonial Pools for a quote, we will come out to the site to give you an estimate. Should you decide to proceed, we will collect a deposit from you, after which we will professionally measure your pool and have you select your pattern.
Pool Rebuilds
Colonial Pools can rebuild your pool with liner replacement, new stairs, lights, new equipment and concrete decking. Stairs can also be patched and fixed, depending on how extensive the damage is. Ask us how, as putting in new stairs can be costly.
We can make your pool look brand new!
Click on an image to enlarge